Contact Eagle Mountain Resort in New Hampshire
View Our Contact Information and FAQs
Eagle Mountain House & Golf is a timeless resort located near the attractions, shops and restaurants of Jackson, NH. The town of Jackson is located along the border of Maine in New Hampshire's White Mountains. Surrounded by the nearly 800,000 acre White Mountain National Forest, our kid-friendly resort is a haven for visitors seeking the outdoor bliss of mountain life.

For help with planning your stay at Eagle Mountain House & Golf, please find answers to the most recently asked questions about our resort.
Eagle Mountain House & Golf Club
179 Carter Notch Road
PO Box 804
Jackson Village, NH 03846
Eagle Mountain House and Golf Club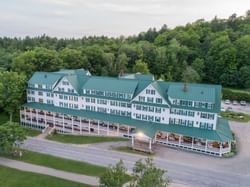 A respite for visitors to the mountains of Jackson, New Hampshire's Carter Notch, this timeless hotel has enchanted generations of guests with its captivating views, idyllic location, 9-hole golf course, and award-winning cuisine at Highfields Restaurant.