Eagle Mountain House
Stay at Our Grand Hotel in Jackson, New Hampshire
Built in 1879, Eagle Mountain House & Golf Club is one of the few remaining Grand Hotels in the White Mountains of New Hampshire. A respite for visitors to the mountains of Jackson, New Hampshire's Carter Notch, this timeless hotel has enchanted generations of guests with its captivating views, idyllic location, 9-hole golf course, and award-winning cuisine at The Eagle Landing Tavern.

Holiday Activities
Experience even more with your stay at Eagle Mountain House. We are offering nightly activities during the Christmas holiday week.
Christmas/Holiday Vacation Week
Tuesday | 12/26 | 3:00pm-4:00pm: Campfire with S'mores
Wednesday | 12/27 | 1:00pm-2:00pm: Make Your Own Snowman
Thursday | 12/28 | 7:00pm-8:00pm: Movie Night in the Eagle Mt Room
Friday | 12/29 | 3:00pm-4:00pm: Campfire with S'mores
Saturday | 12/30 | 7:00pm: History Talk
(all outdoor activities are weather permitting)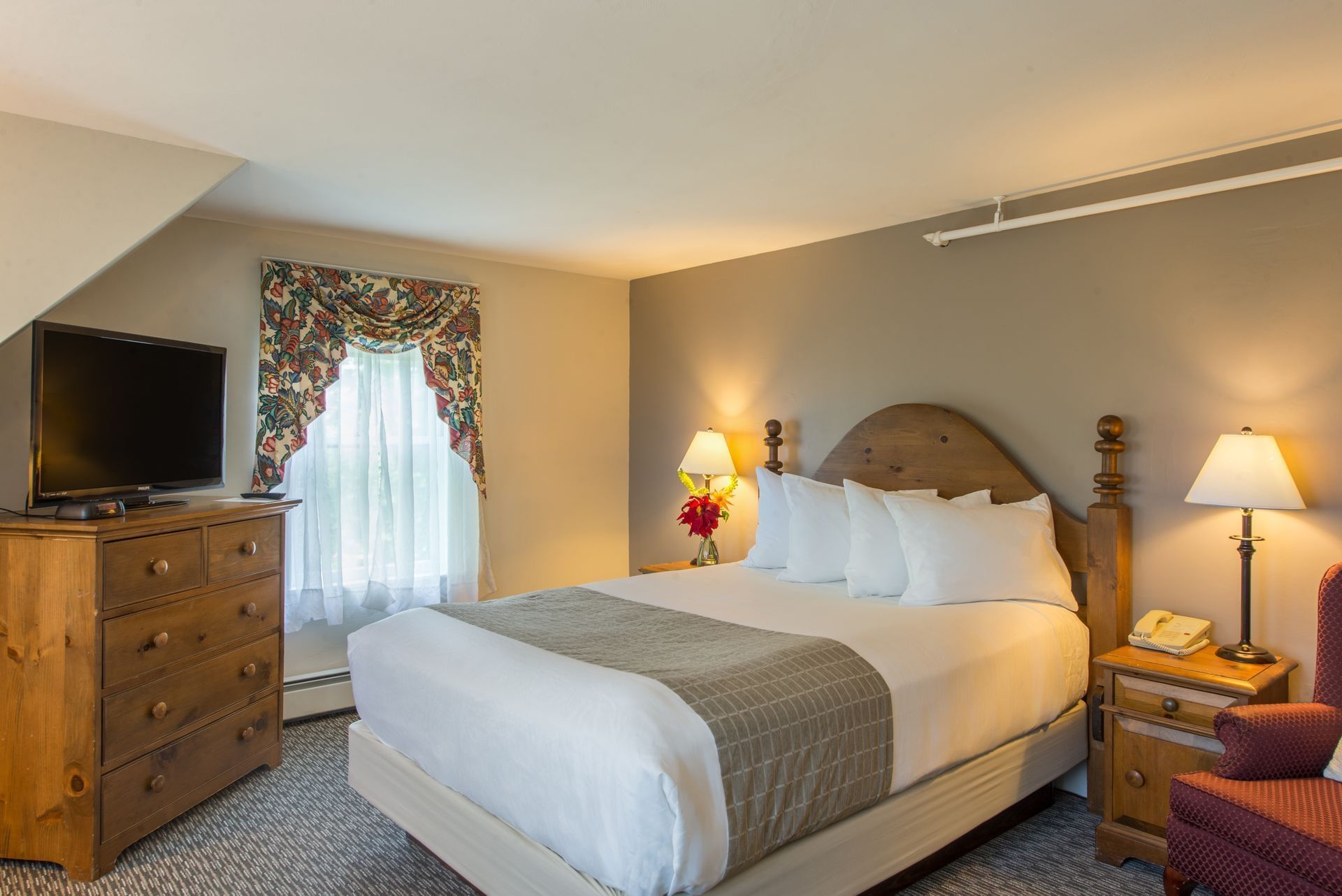 Dining
Discover our modern twist on classic comfort cuisine at Eagle Landing. Whether you're sipping on cocktails in the tavern or settling into a cozy spot within the dining room, an exceptional experience awaits. To make it truly extraordinary, soak in the scenic views of the White Mountains and Wildcat River from our outdoor veranda. Our welcoming restaurant in Jackson, NH is the perfect place to unwind and savor seasonally inspired culinary offerings.
Open for breakfast daily and dinner Thursday through Monday.
About Us
Recognized as a Historic Hotel of America, our 19th-century hotel embraces New England's four seasons with year-round activities. Summer fun on the ​greens starts at the picturesque 9-hole golf course. Autumn brings spectacular foliage that wraps the White Mountain Range in a canopy of color, the perfect backdrop for scenic drives along winding New England roads. Winter offers world-renowned cross-country skiing, as Jackson Village is winter's #1 cross-country ski area in the Eastern United States, and the mountain range is frosted with a blanket of snow.

Explore
In addition to our very own 9-hole golf course, we are close to Jackson's best hiking, biking, canoeing, kayaking, fishing, zip line tours, gondola rides, alpine slide, horseback riding, golfing, ice skating, snowshoeing, downhill and cross-country skiing, sleigh rides and more.

Weddings & Events
From the historic details in the hotel to the cascading Wildcat River falls, Eagle Mountain House & Golf Club boasts one of the most picturesque wedding venues in the White Mountains.
Offers & Packages
Eagle Mountain House & Golf Club presents a variety of seasonal escapes, golf packages, and exclusive holiday offers designed to showcase the diverse range of activities and celebrations that the White Mountains region of New Hampshire.
Spa Partnership
Experience enhanced relaxation during your White Mountain stay! We are thrilled to announce a brand-new partnership with the local Christmas Farm Inn & Spa, offering discounted massages and mani-pedis for guests staying with us.
To make a reservation, visit our front desk.
Please note that due to the ongoing construction of our new pool pavilion structure, and much cooler autumn days and nights, our outdoor pool will be closed until Memorial Day 2024. This exciting addition will feature a relaxed poolside bar offering light refreshments and additional restroom facilities. For future updates and announcements regarding the reopening of the pool, please follow along on social media or sign up for our newsletter. We appreciate your patience and look forward to unveiling our enhanced pool area soon!